This is an incredibly rare 1980 Guitar Research Design GRD Double Cut electric guitar. It's got that late 70's Active Electronics/Hippie Sandwich thing going on and it is stunning. Really high quality build. This gives you the Jerry 70's feel that no one else is gonna have. A really rare guitar.
Specs
25.5" Scale Length
1 5/8" Nut Width- Slim "C" shape, 24 fret neck
Active Electronics with custom wound Dimarzio Humbuckers
Weighs just over 9 lbs.
Price: $2495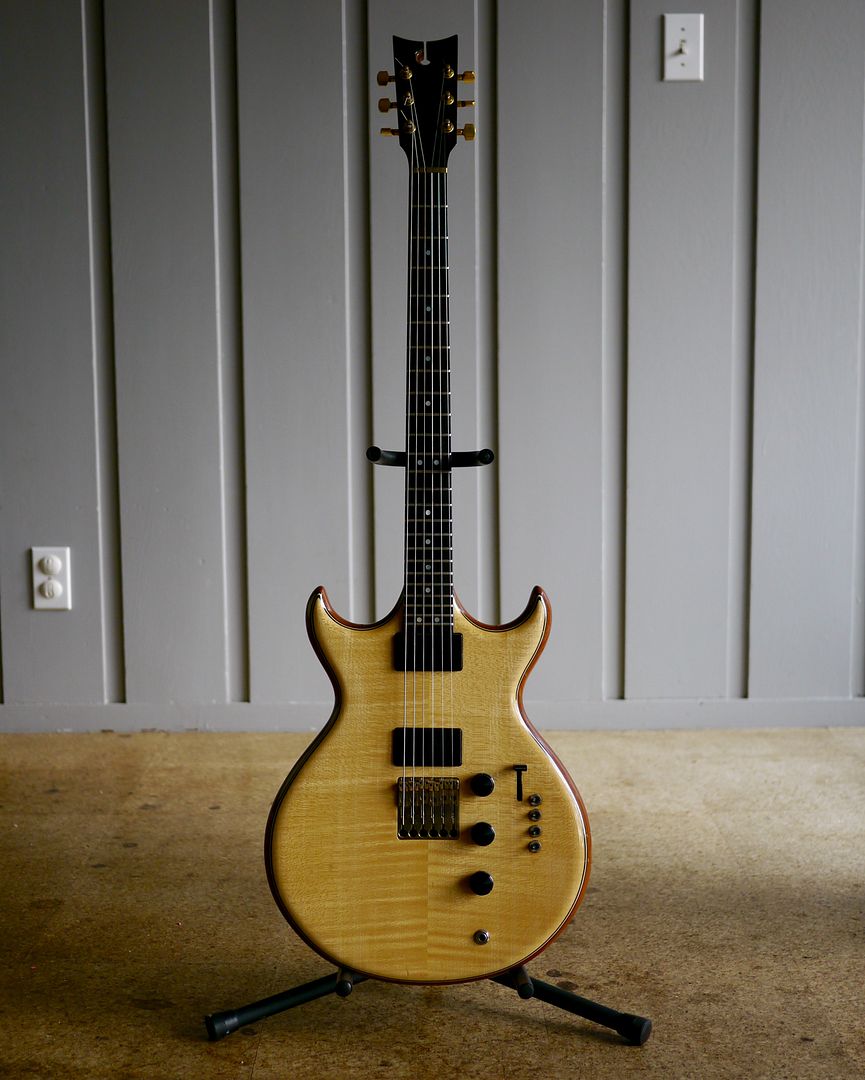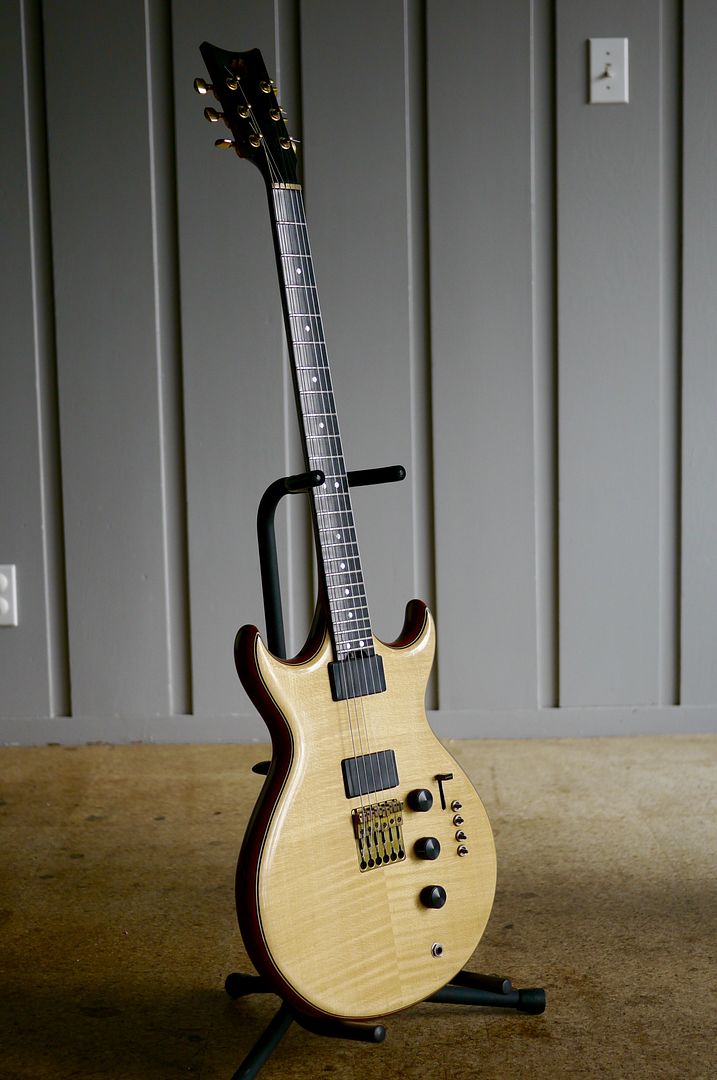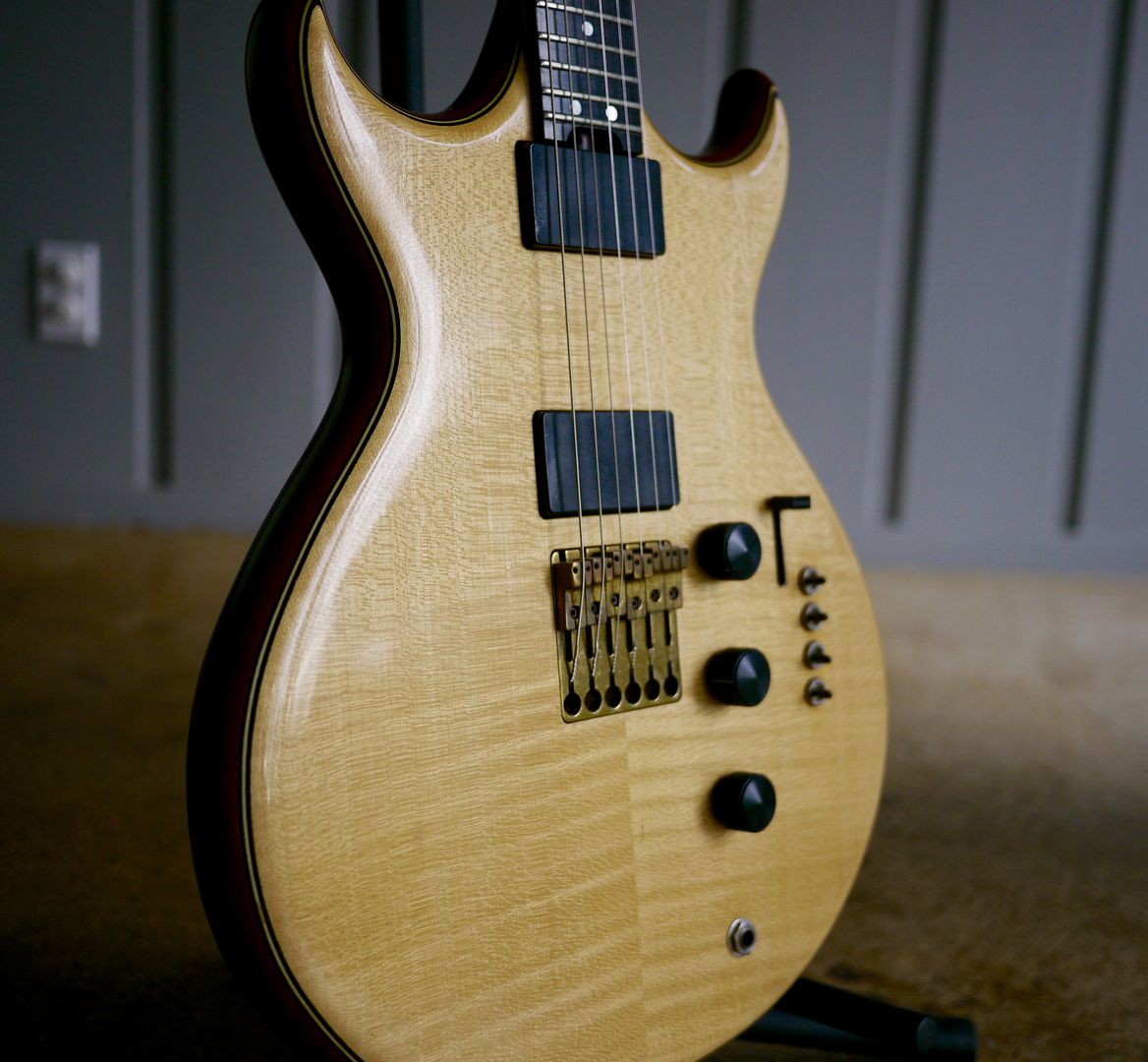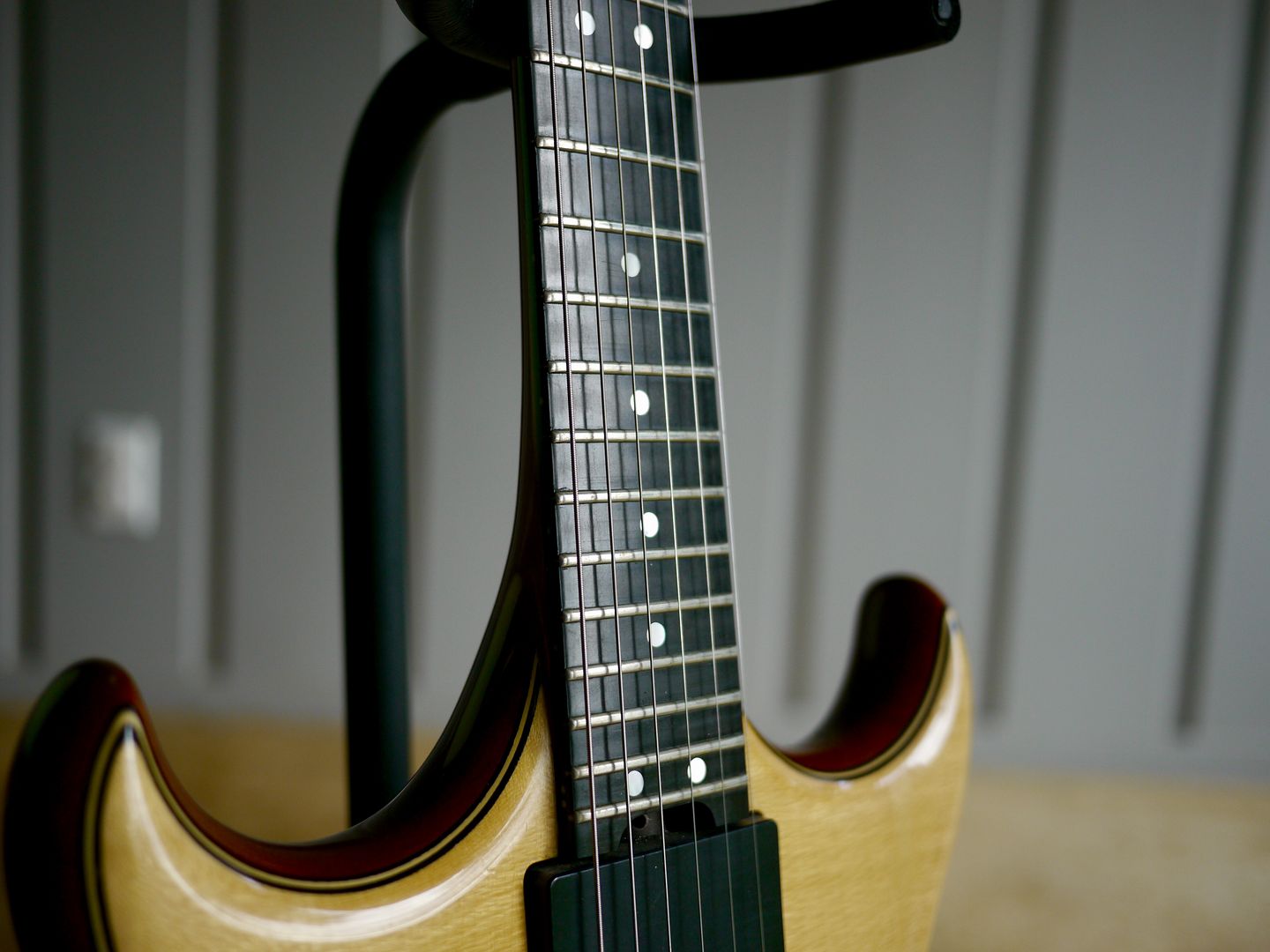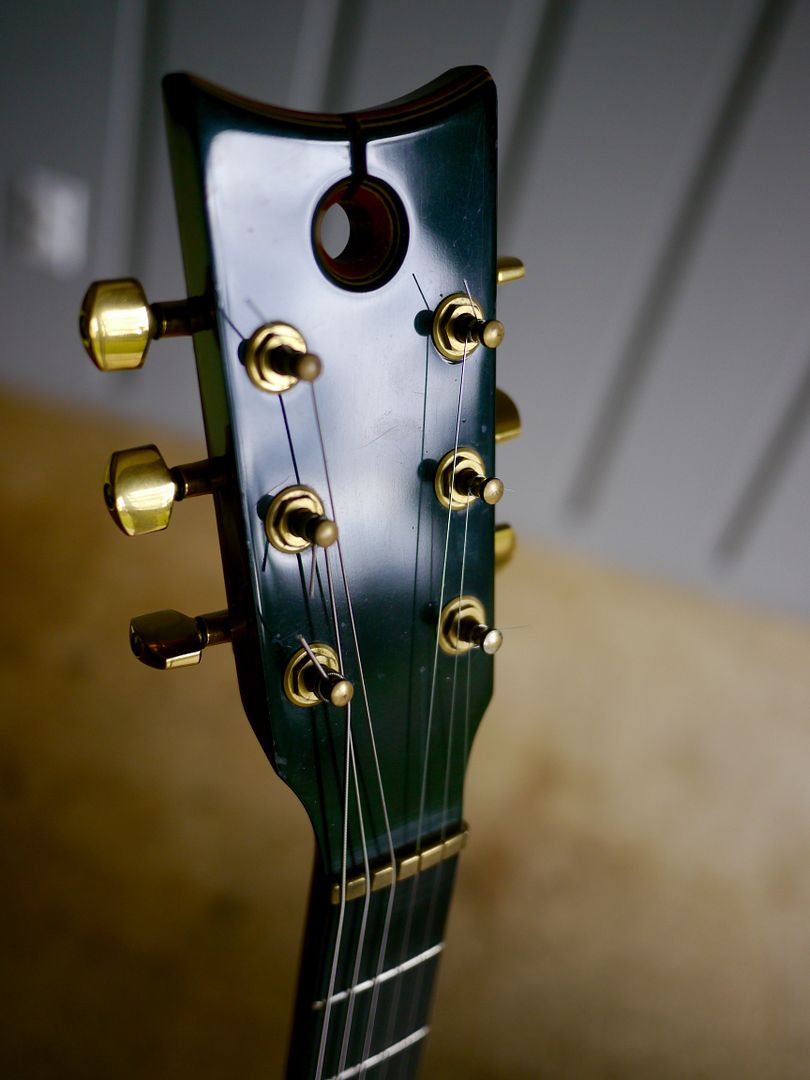 GRD (GUITAR RESEARCH AND DESIGN) ELECTRIC: STANDARD GRD SERIES
The neck and body is pattern grade Honduran mahogany. What appears to be binding is actually two laminated layers of maple sandwiching a layer of ebonized maple in the center. The top is figured spruce. The fingerboard looks like a really nice piece of ebony, but is actually phenolic resin. GRD instruments all feature the highly noticeable "Omega" headstock cutaway.
GRD electrics feature a unique heel-less neck/body joint, and the head and arm are cut from separate pieces which are spliced rather than being bandsawn from one piece of wood. The three-per-side headstocks feature gold-plated Schaller tuners.
The nut is 1/4 in. wide solid brass, and each string has its own separate 1 in. deep brass bridge block (each block is individually adjustable for height and length). The tailpiece is solid brass, and the rear cover plates are solid brass too.
The GRD Standard Series guitars featured active electronics with custom built proprietary circuit boards. This double cut features 3 knobs, 4 switches and a slider switch. The control knobs are Volume/ Tone/ OD Volume. The 4 switches are Phase/ Neck Pickup Single Coil Switch/ Bridge Pickup Single Coil Switch/ Overdrive Switch. Instead of a toggle switch, there is a fader (mixer) which allows the guitarist to blend the pickups in varying amounts. The magnetic pickups are specially wound and potted DiMarzio units. The pickups have no mounting rings, and are mounted through the back of the instrument.
GRD (Guitar Reseach and Design) was founded in 1978 by luthier/designer Charles Fox. The Guitar Reseach and Design company grew out of the School of Guitar Research and Design Center, which was founded by Fox in South Strafford, VT in 1973. The GRD Center was the first guitar building school in North America. The GRD company workforce consisted of graduates from the school. GRD closed its doors in 1982.
This guitar is really finely made. Every part is of the highest quality. It is in very good condition. Being a 37 year-old instrument it does have some bumps and bruises but no breaks. All electronics work completely as they should.
The case for this guitar is very large and very heavy. Insured shipping will be $100. I do accept returns but buyer will pay return shipping and original shipping costs are none refundable, so please ask any and all questions before purchase so we both have a smooth transaction. I am not a regular poster here but have 100% feedback after nearly 20 years on eBay, id dee-jaid. Have many other successful deals on The Gear Page and other guitar forums.